#BrighterBerkshire: A Year of Mental Health
Sunday, February 19th, 2017
**15th November 2017: I must update this blog since stepping away from this project. Still on my to-do list and likely to be around the end of the year**
#BrighterBerkshire is a community-led initiative that wants to begin a conversation about our mental health and wellbeing – to understand our strengths, relationships and opportunities, and to better identify our needs, shortfalls and fears. And we have too many of the latter; in West Berkshire alone, 36 suicides or undetermined deaths took place between 2012 and 2014, reflecting a national upward trend since 2007, especially among men. Behind these figures are the many hundreds and thousands of people coping with mental ill health, using mental health services, relying on GPs, supporting family members or struggling to cope alone. To boot, our health and care services, and professionals, are under immense pressure, with local services being cut across all services and care groups, reported here in the Newbury Weekly News.
So how can we work together to achieve real change? We know isolation and loneliness contribute to feelings of worthlessness and desperation. Equally we know friendships, being needed and valued, expected somewhere and missed if we don't arrive, gives us a reason to get out of bed in the morning. Social prescribing has a sound evidence base in health care and has real potential to help – but how to find out about what's happening, or summon the courage to try something out?
Led by West Berkshire's Chair of HealthWatch, Alison Foster, we invited everyone and anyone interested in a new community network to an open meeting on 16th December 2016. It was an amazing day, filled with stories, inspiring accounts of coping and of recovery, and with singing, talking and commitments to act. Since launching in January 2017, dozens and dozens of employers, schools, colleges, sporting and creative groups, and most importantly individual people who use mental health services and their friends and families have stepped forward with ideas, offers, information and plans to make Brighter Berkshire a reality. It's still very early days of course, but it's humbling to see the outpouring of ideas, activities and connections being made already.
We know we've got people reading, sharing and talking. The storify of the day has had over 100 reads, the website is full of personal stories and lists of activities, and over 2.5 million impressions have been made by over 300 tweeters sharing conversations and resources. But there's more to do – our words need to become actions, and our actions need to reach those who most need to be included and to feel part of Brighter Berkshire. So maybe listen to 'Talking Heads' radio programme on Radio Berkshire (next on 11 – 1 on 20th February) and give them a call, or join Entric's bike ride, or ask your employer to make a pledge to donate £1 per employee, or encourage your local councillor to become a Mental Health Champion – or just get in touch with your own idea to help us keep talking. Let's drive the silence that feeds the stigma and fear of mental ill health out of Berkshire (and of Britain and the world!)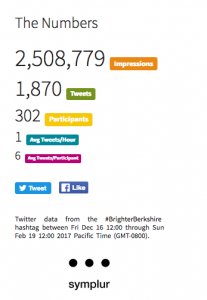 Thank you for reading.
---